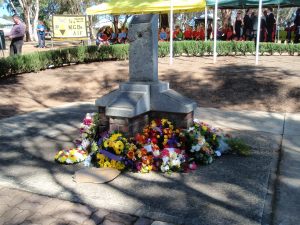 SANDAKAN DAY 2019
Sandakan Memorial Day 2019 was held on Tuesday 11th September, 2019 at the Sandakan Memorial adjacent to Boyup Brook Shire Hall.
Our group of some 22 attendees headed off by bus from Bunbury, ably piloted by Alan Donnan who did a fantastic job in getting the party there. On arrival in Boyup Brook we were treated to beautiful weather, totally different to the drizzly winter showers experienced in the past.
Prior to the Service we were treated to a morning tea hosted by the Boyup Brook Shire and St Mary's Catholic School Students.
The service was then held in the glistening sunshine. During the Service the Guest Speaker was 2/4th Machine Gun Battalion Historian Cheryl Mellor who gave a descriptive talk on the conditions met by the POW's on the Sandakan march, particularly highlighting some of the prisoners who hailed from the South West Region of WA.
We were then honoured by a presentation from the 2018 Scholarship recipient, Delana Webb who gave a talk on her recent visit to the Sandakan area. Following Delana's presentation, the audience was treated to a presentation by 2019 Sandakan Scholarship winner Brooke Nield. Brooke outlined the research that she had carried out and the presentation she made to win this Scholarship. We look forward to next Year's Memorial Day where Brooke will make a presentation on her trip.
Wreath laying was carried out and a large number of wreaths were laid, Bunbury RSL laid a wreath, represented by President John Gelmi and Senior Vice President Tim Thomson.
We then partook in a lunch in the Shire Hall then journeyed back to Bunbury.
This was a great day and I urge members to take advantage of next Year's Memorial Day.