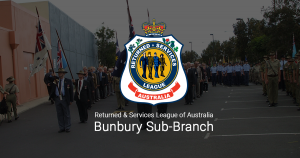 Members of Bunbury RSL attended the (combined south west sub-branches) Vietnam Veterans Day on Sunday 19th. August, held at Donnybrook RSL.
Weatherwise it could not have been a better day, as approximately 120 people attended the commemoration, representing a number of sub-branches throughout the south west. On arrival we were greeted with a welcoming cup of tea/coffee and given plenty of time to socialise with members of the other sub-branches.
Transport from Bunbury was provided by Gannaways for our members at a cost of $10.00 pp and resulting in a pleasant and most comfortable journey in a late model bus.
A march down the main street of Donnybrook attracted many onlookers as the veterans made their way towards the monument. A catafalque party provided by the 515 Cadet Unit was a fitting part of the ceremony. The guest speaker, Principle Gary Davis from Donnybrook High School presented a history of the Vietnam War, in particular mentioning the Long Tan Battle along with the battles of FSB Coral and Balmoral, and revealed the names of local men who lost their lives in the line of duty.
The wreath laying ceremony and the ode that followed put the crowd aware of the importance of the event and cemented the history of our obligation to the fallen and what our continued support means to keep the memory alive.
Following the ceremony, the gathering made their way back to the Donnybrook RSL to the delight of refreshments and comradeship that exists with the veterans and supporting community.
The whole day was definitely a huge success with a enjoyable array of food, including soup prior to the main meal. Congratulations to Donnybrook RSL.
An announcement was made for the 2019 year, (by a vote by the sub-branches), for Collie- Cardiff RSL to host the Vietnam Veterans Day on Sunday 18th August.